So I decided to go all out and make it easier for me to blog, even if I'm stuck with no intraweb, somewhere where the dredded "E" is in the upper left hand corner of my iPhone. I have been looking into things like this here OS X app called….you guessed it, myBlogEdit.
Set up is pretty simple so far.
Download and install.
Command-Comma for Preferences. Highlighted in blue, you will see the XML-RPC thing. This is important to also set up in settings on your WordPress Dashboard.
Fill in your site info, and you're pretty much done.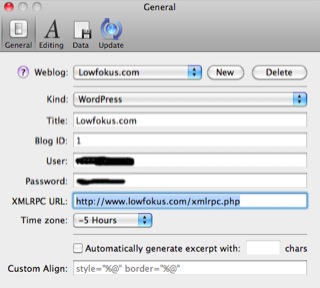 I'm diggin' that this app has a bunch of HTML tags for your clicking approval, as well as an empty set that does a nice drop-down list. It has taken me a while to get this first post out with the program, but it's because I'm taking screen shots and telling you all about it as I go. Suffice it to say, it's pretty slick so far.
Unfortunately, I cannot seem to change the CSS for the preview, and I'm going to write the developer and ask him why that is. I cannot cut and paste my CSS into the preference, nor can I drop a CSS file on it. The only option you have is blank, or "default" (program author supplied). I do note that you can type in the box, however I do not consider typing all of your CSS out all over again a viable option. You can choose cut copy and paste from the file menu, but paste seems to be the only one lacking function. Bummer. That will put the brakes on me using this app full time for sure.
Upload is pretty straight forward, and it does look like the preview version. I have to say that you should note the width of an image you want to upload prior to you accepting the upload. It seems that thumbnails are automagically generated for you after you make images in excess of 150px. Pretty neat.
Suffice it to say, though, that you really do need to love editing your blogs in HTML form in order to like this application.  If you are used to the WSYWIYG web version that WordPress gives you to use, than you probably aren't going to be a huge fan of changing strictly to HTML.  For those of us out there that click the HTML tab on that web interface, this little program is pretty good.
So one thing I learned the hard way, do not delete the post from WordPress, or it won't let you publish it again. The error I got was invalid post ID, found in the xml data in the log. myBlogEdit just gives a cryptic popup advising you to have XML-RPC enabled, and check the error log as well. Do yourself a favor and check the error log if it worked before and suddenly doesn't. Well, that's it for now, until I get more used to writing with this application. Give me about a month and I'll come back and tell you how it's been going.